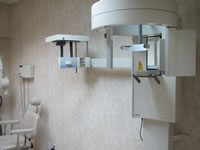 Digital x-rays are the modern method of taking x-rays. It is an advanced technology that speeds treatment and help us make the most accurate and efficient diagnosis of your dental condition. Digital x-rays have many advantages over conventional x-rays:
They are faster and more sensitive
We can view colored images instantly
We can enhance images to improve viewing
We can store digital images on the computer for future use.
They reduced radiation by as much as 90%
Digital X-rays are very comfortable. A small sensor device is placed in your mouth. The device is connected to a computer that instantly creates colored x-ray images on a monitor. In seconds, you see the same clear color X-ray that your dentist sees.
Call Us Today at 905-331-7654 or contact us to Book Your New Patient Exam!