Family Dentistry Burlington
Are you looking for a family dentist everyone can go to for years to come? Appleby Dental is here to offer you and your family exceptional service for all ages. Our dentists offer services like tongue tie therapy for small children, regular dental cleanings, restorative treatments, fillings, bondings, crowns, bridges, implants, root canal therapy, extractions, dentures, cosmetic services, whitening and more! Our team constantly stays up to date on all the latest and greatest there is in family dentistry.
At Appleby Dental we treat all our clients as if they are family too! We are dedicated to delivering personalized services for your unique dental needs. The entire team aims to make your trips to the dentist as comfortable as possible. We strive to go above and beyond to deliver a safe and positive dental experience.
The key to a healthy mouth is to adopt good habits as early as possible. We look out for the overall health and safety of each patient at each stage of development and into adulthood. We build and maintain the best habits in our patients, allowing them to care for a healthy smile all year long!
Looking to book your first appointment with Appleby Dental? Give us a call today at (905) 331-7654 to speak with our friendly staff and schedule your appointment!
Appleby Dental Professionals Family Dentistry In Burlington
At Appleby Dental Professionals, families in Burlington can trust our team for their dental care needs. With years of experience serving the community, we take pride in providing high-quality service. Our family dentistry office is welcoming, and patients of all ages will receive personalized care. We aim to make every visit an enjoyable experience, and our team works hard to ensure your satisfaction.
We cater to patients of all age groups, and our family dentistry offers a range of services to maintain healthy smiles. We prioritize prevention and education to minimize the risk of tooth decay and gum disease, and we understand that every patient has unique dental health needs. Our team provides personalized care to every member of your family, ensuring that they receive the specific services they require. We are committed to helping our patients achieve healthy teeth and beautiful smiles!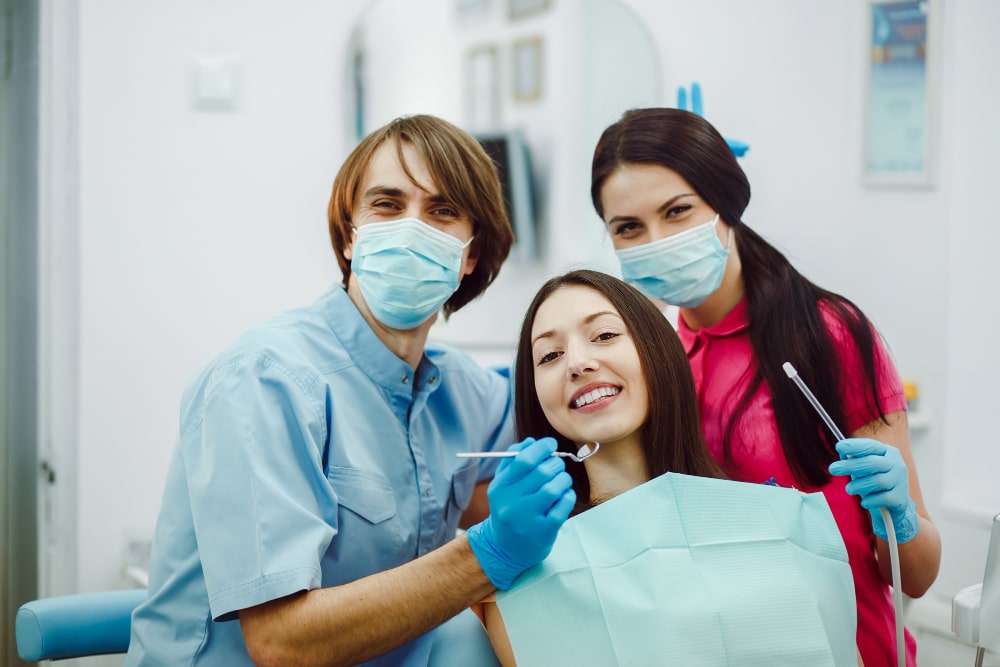 Children
It is very natural for children to feel scared or nervous about a visit to the dentist. Our team has years of experience working with children, and our family dentistry centre is a friendly space that will cater to children's needs. Our office is a fun and friendly environment in which children will feel safe, and our dentists will work with your child to eliminate their fears and check on their development.
Through regular appointments, children will feel more comfortable, and we will teach our young patients how to brush and floss properly and will talk to them about the importance of a good oral hygiene routine.
Adults
We recommend adult patients come and visit at least twice a year, and if we detect any signs that are concerning, we may request more frequent visits. Professional cleanings will help adults maintain strong teeth and healthy gums, and we can discuss dental treatments and procedures if necessary.
Seniors
Our team can also assist senior patients with daily dental health care and will go over how to perform oral hygiene procedures at home. We understand the concerns seniors have regarding their teeth and will discuss dentures or relining services if the patient is in need of more information.
It is our joy to serve families here in Burlington, and our family dentistry practice is pleasant, professional and friendly. We connect with our patients and build long-term relationships because we want to be part of your oral health journey.
Contact us today at 905 639 5592 to schedule an appointment for yourself and for every member of your family!